DEDA's mission is to drive economic prosperity in the City of Duluth.
DEDA accomplishes its mission by leading significant development initiatives, being a catalyst for sustainable development and redevelopment, and prudently investing unique resources that leverage other investments.
As the City of Duluth's economic development agent, DEDA works to stimulate business investment, expand economic prosperity, grow the local tax base and strengthen public-private partnerships. DEDA's partnerships and initiatives are paying off with a vibrant, diversified economy and business climate that creates jobs, builds prosperity, and secures a strong tax base to fund vital City services to sustain healthy neighborhoods.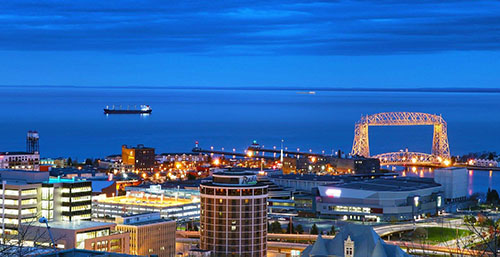 DEDA's initiatives in result in the following returns on investment:
High quality employment opportunities
Increased tax base
population growth
Healthy vibrant neighborhoods
Business growth or expansions
DEDA's initiatives are based on the following values:
Balance risk and return on investment
Partner in a collaborative manner
Provide prudent stewardship over public resources
Leverage our region's unique economic and environmental assets
Respect the culture and people that make Duluth special
Recognize the unique contributions of public and private partners
Commissioners
---
DEDA is governed by seven Commissioners made up of three City Councilors and four citizens:
| | |
| --- | --- |
| ChaQuana McEntyre | President |
| Matt Cartier | Vice President |
| Roz Randorf | City Councilor, Treasurer |
| Terese Tomanek | City Councilor |
| Arik Forsman | City Councilor |
| Connor Randall | Commissioner |
| Ellie Just | Commissioner, Secretary |
2023 Meetings
---
January 25th @ 5:15pm
February 22nd @ 5:15pm
March 22nd @ 5:15pm
April 26th @ 5:15pm
May 24th @ 5:15pm
June 28th @ 5:15 pm
July 26th @ 5:15pm
August 23rd @ 5:15pm
September 27th @ 5:15pm
October 25th @ 5:15pm
November 15th @ 5:15pm
December 13th @ 5:15pm
Council Chambers or RM 303